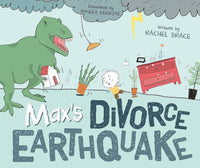 Max's Divorce Earthquake
"Before Sunday, Max didn't know the word divorce. He didn't really know what it meant. But the word divorce felt very much how Max imagined the word earthquake might feel".
This beautifully illustrated children's book is an invaluable resource for parents, friends, family members, therapeutic professionals, mediators and Family Dispute Resolution Practitioners, who want to support young children understand and cope with the feelings generated by separation and divorce.
Max's Divorce Earthquake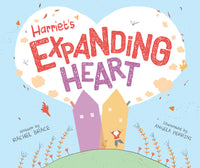 Harriet's Expanding Heart
It is normal for children living in stepfamilies to have lots of different feelings and to feel different things at different times.
Harriet's Expanding Heart follows a young girl's emotional experiences surrounding her father re-partnering and their stepfamily beginnings. This book offers children a chance to explore, name and understand the various feelings they might feel as a result of a parent re-partnering following divorce.
Harriet's Expanding Heart
Reviews Max's Divorce Earthquake
Max's story can be read over and over. I think each child will take something away as they navigate through the different emotions, and ups and downs that come with the upheaval of divorce. This is a resource that any parent going through a separation needs to have. I wish I had something like this at my challenging time for both my understanding and my boys.

Emma, mother of two, divorcee
This book is a lovely guide to help parents talk to children about their feelings and to help parents understand how their children might be feeling when their family changes as a result of parental separation

Rhondda Matthews, Social Worker, The Family Relationship Network
In this comforting and beautiful book, Max's Divorce Earthquake gives children meaningful images and language to help them understand the complex, changing and often difficult feelings that can surround divorce. A wonderful addition to any family going through change, or a professional supporting children experiencing divorce. Highly recommended.

Michelle Montgomery, Head of Programs, KidsXpress
Brilliantly written and beautifully illustrated. I will be making sure it's used in our school as a resource to help our kids in divorced and separated families.

Sarah, Classroom Teacher & Librarian